December 6, 2022
Bonterra Organic Estates Named Green Company of the Year 2022 by The Drinks Business
Beverage industry's only global green-specific awards honor the company's commitment to regenerative organic farming, responsible business practices and environmental stewardship.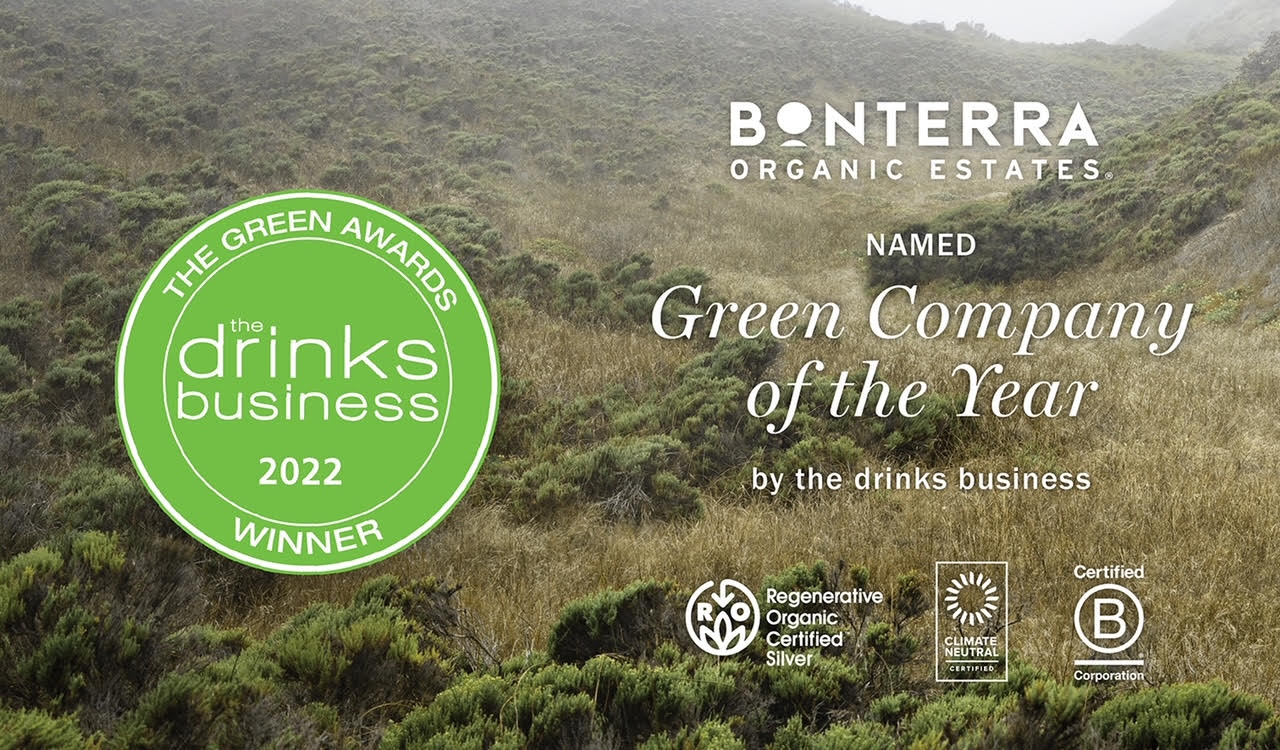 HOPLAND, Calif., December 6, 2022 – Bonterra Organic Estates®, a certified B Corporation, has been honored as Green Company of the Year by the drinks business magazine. This recognition highlights the company's acceleration of longstanding impact initiatives over the last 12 months, from achieving Regenerative Organic Certification® for all of its estate vineyards and winery, to formally changing the organization's name from Fetzer Vineyards to Bonterra Organic Estates in order to more clearly emphasize its guiding values.
The drinks business Green Awards are the world's largest program raising awareness of sustainability and mission-driven companies in the beverage trade, and the only set of green-specific awards that encompass the global beverage industry. These awards recognize and reward the brands and individuals who hold a green agenda at the very heart of their businesses, and demonstrate tangible results. Winners are determined by an independent panel of sustainability and drinks industry experts. The Green Company of the Year Award, awarded to Bonterra Organic Estates this year, salutes a beverage company that has both improved its own direct environmental impact through changes to business practices, and promoted this effectively to a wider audience.
"Wine and agriculture are on the front lines of the climate crisis, which means we are uniquely positioned to pioneer best practices that help cultivate a better future for all," said Giancarlo Bianchetti, CEO of Bonterra Organic Estates. "We are deeply gratified by this recognition of our efforts by industry peers, and will continue working to improve our environmental impact further—and, hopefully, to inspire other companies around the world to do the same."
This Green Company of the Year Award is the capstone of an eventful twelve months in Bonterra Organic Estates' history. In December 2021, the winery secured Regenerative Organic Certification for all of its Mendocino County, California vineyards and winery. Bonterra Organic Estates achieved Silver-level certification by demonstrating adherence to rigorous standards across the program's applicable pillars—soil health and social fairness—and committing to ongoing improvement. In late 2021, the company's popular Bonterra brand also achieved Climate Neutral certification after measuring, reducing, and offsetting a full 100% of greenhouse gas emissions from production and delivery of the wines. To help educate and bring consumers along on its Climate Neutral journey, the company deployed a national marketing campaign around Climate Neutral wine, including full-page ads in the New York Times and Los Angeles Times.
Earlier this year, Bonterra Organic Estates also formally committed to the Science-Based Target initiative, a global partnership that empowers ambitious climate action in the private sector by helping organizations set and achieve emissions reduction and decarbonization targets grounded in the best available scientific evidence. Additionally, as a result of Bonterra Organic Estates' ambitious and broad-ranging environmental efforts, B Lab, the global nonprofit network that certifies and mobilizes B Corporations, named the company a "Best for the World" in the Environment category this year – an award reserved for the top 5% of similarly sized global B Corps for positive environmental impact.  Finally, and most visibly, in August the company officially changed its name from Fetzer Vineyards to Bonterra Organic Estates in order to highlight its forward-thinking regenerative organic commitments.
Bonterra Organic Estates has long led its industry in modeling planet-friendly business practices and continues to advocate for climate-smart policies at the state and national levels. In 2015, then-Fetzer Vineyards became the first recipient of the California Green Medal Leader award, which recognized the winery's longstanding sustainability commitments and leadership in the California wine industry. In 2017, the company was the only winery in the world to be commended at COP23 by the United Nations Climate Change secretariat, which recognized the winery's work toward a climate positive future with a Lighthouse "Momentum for Change" Climate Solutions Award. In 2020, the company declared a climate emergency and committed to achieving climate-positive operations by 2030.
©2022 Bonterra Organic Estates, Mendocino County, California USA