July 13, 2022
Bonterra Organic Estates Recognized as a 2022 B Corp "Best for the World" for Exceptional Impact on the Environment
Company's longstanding commitment to regenerative agriculture and climate-friendly business practices lands it in the top five percent of global B Corps in the Environment impact area.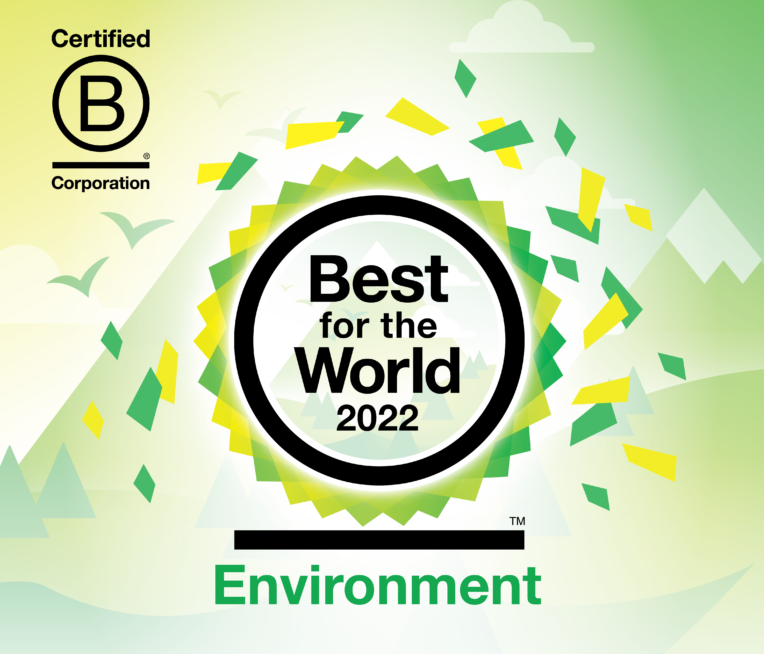 Bonterra Organic Estates, a Certified B Corporation and leader in responsible business practices, has been named a 2022 Best for the World™ B Corp™ in recognition of its exceptionally positive impact on the environment. This recognition celebrates Bonterra Organic Estates' longtime regenerative business operations and puts the company in the top five percent of similarly sized global B Corps for positive environmental impact.
The Best for the World recognition is administered by B Lab, the global nonprofit network that certifies and mobilizes B Corps, which are businesses that meet high standards of positive social and environmental performance, accountability, and transparency. B Lab annually grants the Best for the World distinction to Certified B Corps whose verified B Impact Scores in the five impact areas evaluated in the B Impact Assessment — community, customers, environment, governance, and workers — rank in the top five percent of all B Corps in their size group.
After being recognized as a Best for the World "Changemaker" in 2018 and 2019 for making the most positive improvements to their overall impact, Bonterra Organic Estates, then known as Fetzer Vineyards, achieved an "Outstanding" New B Corp Score of 130 during its recertification in 2021, a notable 37% increase from its previous score. Now, the company adds the 2022 "Best for the World" in the Environment impact area designation to its accomplishments.
"Bonterra Organic Estates has championed regenerative organic agriculture and responsible business practices since our founding, and we are honored to be in this position of leadership within the global B Corp community," said Giancarlo Bianchetti, CEO of Bonterra Organic Estates. "Looking ahead, we plan to build on this momentum and will continue to develop forward-thinking initiatives, both within the environment impact area and beyond."
In 2020, the winery declared a climate emergency and committed to achieving climate-positive operations by 2030. The winery is now more than halfway to its goal thanks to significant emissions reductions efforts and pioneering Climate Neutral Certification, which it achieved for its two largest brands, Bonterra and Fetzer, in 2021.
Additionally, Bonterra Organic Estates is presently the largest winery in the world to achieve Regenerative Organic Certification™ (ROC™), having secured Silver-level certification for all of its estate vineyards and winery in 2021. Prioritizing soil health, biodiversity, and the well-being of animals, workers, and the climate itself, this approach aims to repair a damaged planet and create a better future for all.
"With regenerative organic agriculture, farmers have the opportunity to be global superheroes. These practices make measurable, positive differences in the health and resilience of our environment and communities," said Joseph Brinkley, director of regenerative farming for Bonterra Organic Estates. "The Best for the World designation shines a spotlight on these efforts, and will help us continue to share best practices with others."
In addition to regenerative organic agricultural practices, Bonterra Organic Estates' comprehensive environmental management system addresses waste generation, energy usage, water usage, and carbon emissions. In 2014, it became the first winery to achieve platinum certification through TRUE Zero Waste. More than three-quarters of all the company's product input materials come from recycled, reused, or certified sustainably produced sources, and byproducts of wine production are composted. Smart water meters throughout the winery's Hopland, California campus allow for swift identification and resolution of leaks and water waste incidents in real time. The Hopland campus also relies 100% on renewable energy sources.
Long an industry leader in modeling planet-friendly business practices, Bonterra Organic Estates continues to advocate for climate-smart policies at the state and national levels. In 2015, the company became the first recipient of the California Green Medal Leader award, which recognized the winery's longstanding sustainability commitments and leadership in the California wine industry. In 2017, Fetzer Vineyards was the only winery in the world to be commended at COP23 by the United Nations Climate Change secretariat, which recognized the winery's work toward a climate positive future with a Lighthouse "Momentum for Change" Climate Solutions Award.